Remember that it is important to comply with the deadline times to avoid embarkation problems.
Beyond this time Baleària cannot guarantee you will be taken on board.
Generally departures and arrivals ( both) will be ALWAYS from/ to : Terminal 21 at the Port Everglades.
There are some specifict dates when we don't depart from Terminal 21 , it will be from a different terminal, see below:
*dates subject to change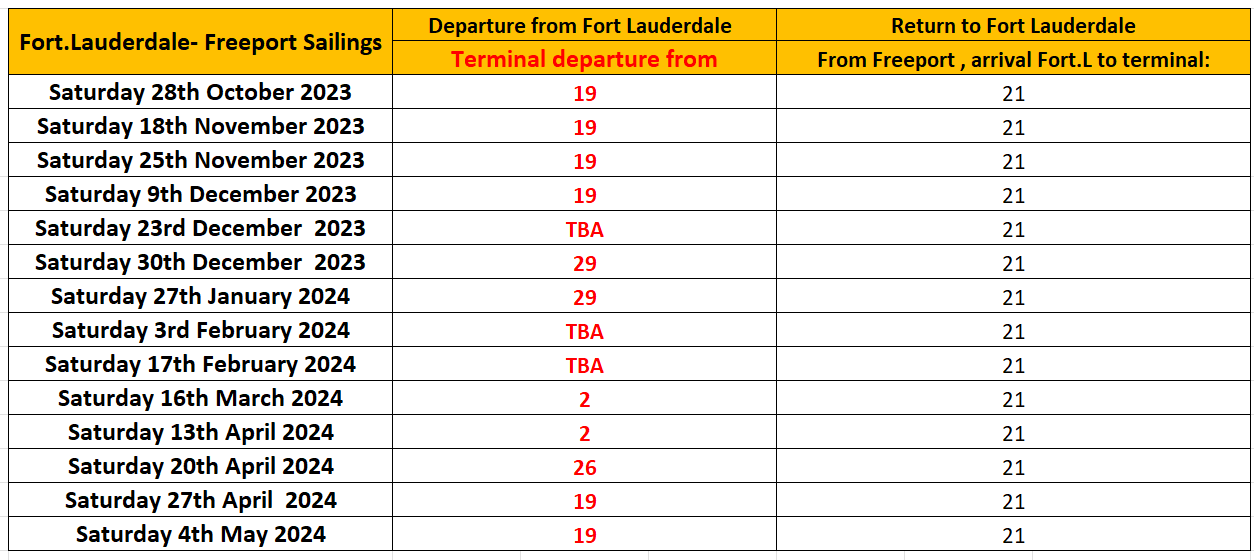 DEPARTURE FROM FORT LAUDERDALE
Check-in commences at 6:00 a.m., three hours before departure time.
The terminal doors close at 8:00 a.m., which is one hour before the vessel departure at 9:00 a.m. We strongly suggest that guests plan to arrive between 6:15 a.m. – 6:45 a.m.
Please note that due to strict security measures, you may run into traffic congestion upon entering the port. Plan your arrival to the actual port at least one hour prior to departure.
DEPARTURE FROM BAHAMAS
Check your booking confirmation or boarding cards about which is your departure time.
Remember that doors will be closed 1 hour before departure
Check in will start 2 hours before departure
Avoid delays
We provide all information required from the ports where we operate to ensure you suffer no incidents
Check our adress and location :